News
APICS Certification Boosts Supply Chain Salaries by 25%
03/01/2023
APICS Certification Boosts Supply Chain Salaries by 25%, Salary Report Shows!
According to a recent survey on salaries, Supply Chain Management professionals are seeing an increase in salaries and overall compensation. On average, salaries rose 9% and overall compensation grew 12%. Women under 40 years of age earned more than their male colleagues for the second consecutive year. Women between 40 and 49 years reduced the pay gap to 8% compared to their male colleagues, compared to 15% in 2020. Salaries are fairer for ethnic minorities at publicly traded companies, while the gap is wider at private companies. Similarly, women at publicly traded companies have a slightly higher salary than men, but women's salaries are significantly lower than men's at private companies.
Two-thirds of Supply Chain professionals work in a hybrid environment or permanently in smart working, showing that many Supply Chain professionals do not need to be on site. Supply Chain professionals were minimally impacted by the large "wave" of resignations. Despite the large turnover and reshuffle, Supply Chain professionals seem to have changed jobs less compared to other functions. In 2022, 14% of respondents found a new job, an increase of only 1% compared to last year's data. Only 0.5% (nine total respondents) reported being fired. Of the nine fired, three have already found a new job.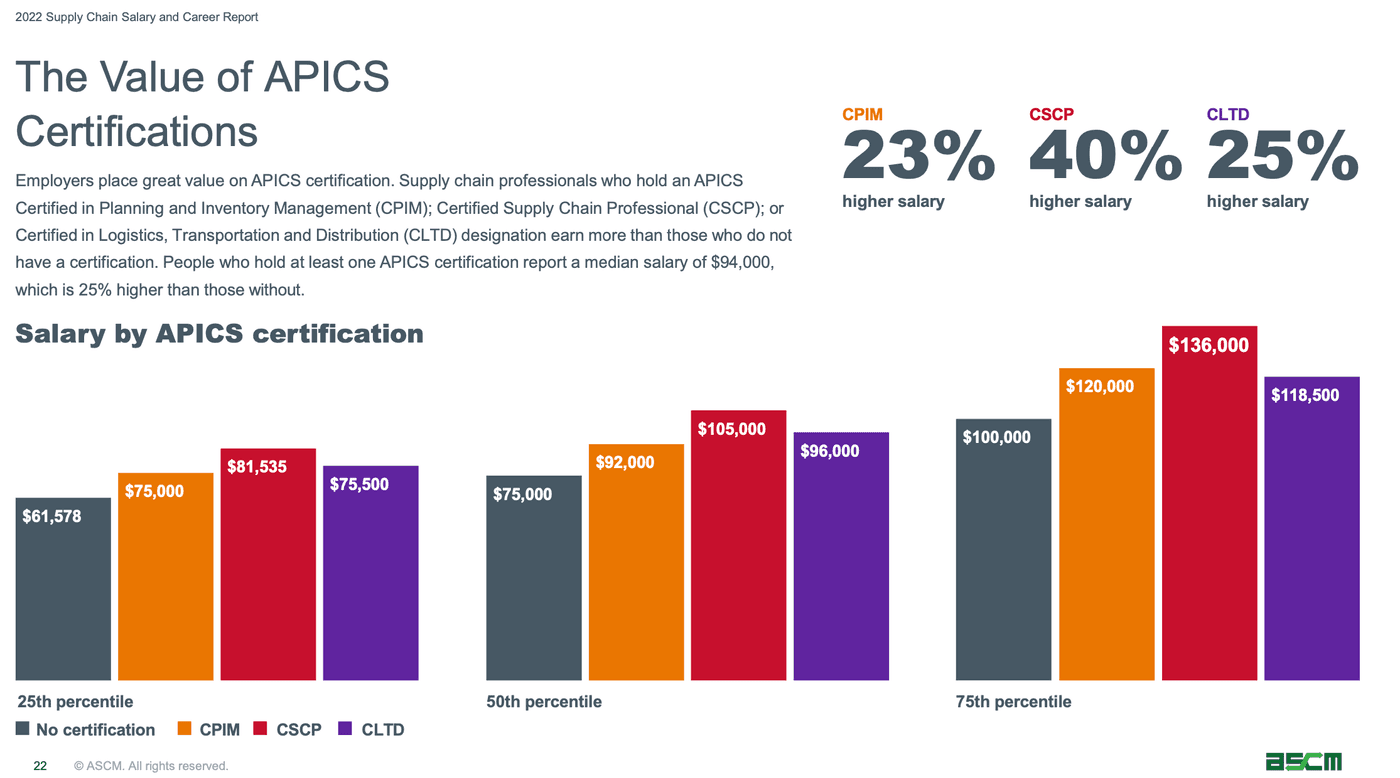 Investment in professional development pays off. Employees with just one certification earn 17% more than those without. The APICS certification is particularly in demand, as people with at least one APICS certification earn 25% more than those without. In addition, to increase your value in the field, you need to have more than a Supply Chain degree. Supply Chain professionals with a degree in Supply Chain but who also have an APICS certification earn 18% more than those with only a Supply Chain degree.
Despite the ongoing changes, career satisfaction remains high. Supply Chain professionals continue to report high job satisfaction even in the midst of a year of turbulence.
In conclusion, this survey shows that Supply Chain Management professionals are seeing increases in salaries and overall compensation. Furthermore, certifications such as APICS are particularly sought after by companies and can lead to a 25% increase in compensation. Investing in professional development and obtaining certifications like APICS can therefore be a smart move for those looking to increase their value in the Supply Chain Management job market. If you are interested in pursuing a career in this field or making a quality leap in your current position, enrolling in APICS courses may be a winning choice.
From the 2022 ASCM Salary Report.
See all »