Master in Project Management
Project Management - PMI® - Courses and Master's

DURATION
6 giornate in 3-4 mesi

UPCOMING COURSES
da definire


PRICING

EXAMS
nessun esame previsto
Il Master (1° livello della piramide) è uno step fondamentale prima di accedere alla certificazione PMP® del PMI®, Project Management of Institute.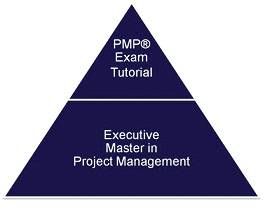 Questo Master in Project Management trasferisce le conoscenze, le Best Practice e le tecniche necessarie per gestire in maniera efficace un progetto nel rispetto del triplo vincolo di Performance, Costi e Tempi e quindi per supportare nella maniera migliore il Business.
Il corso è svolto in collaborazione con The Project Management Lab, società di consulenza di Milano, riconosciuta REP - Registered Education Provider del PMI -
Project Management Institute
.
Teaching plan

Il piano didattico è composto da struttura del corso e dal programma dettagliato, di seguito i contenuti principali.

READ THE DETAILS ▾

PROGRAMMA DETTAGLIATO

Il corso è articolato in 5 Moduli, che saranno affrontati in 6 giornate in aula (il sabato), nell'arco di 3/4 mesi.

MODULO 1 - Project Management Framework

Progetto: definizioni, implicazioni, tendenze
Il ciclo di vita del prodotto e del progetto
Progetto vs Programma vs Portfolio
L'ambiente di progetto: attori e relazioni
Le organizzazioni Project-Based (adhocrazie)
Le diverse forme di struttura a matrice quale soluzione tipica nelle organizzazioni Project-Based
Il ruolo del Project Team Member nelle diverse fasi del ciclo di vita di progetto
Il processi di Project Management secondo il PMBOK®


MODULO 2 - Project Scope Management

Project Scope Management: introduzione all'area di conoscenza del PMBOK® e legami con le altre aree di conoscenza
Project Charter: raccogliere il mandato di progetto
Piano di gestione dell'ambito: strategie/ criteri di gestione dello "scope"
La definizione dell'ambito complessivo del progetto: redazione del Project Scope Statement
La WBS: rilevanza, criteri di costruzione, approfondimenti
Il WBS Dictionary come elemento di integrazione
Verifica dell'ambito vs Controllo Qualità
Ottenere l'accettazione del cliente
Project Change Management: cos'è una modifica e dove nasce
Il ciclo di vita di una modifica e gli attori coinvolti
Issue Resolution


MODULO 3 - Project Time & Cost Management

Gruppo dei processi di pianificazione del progetto
Definizione delle attività
Pianificazione delle risorse umane (Matrice delle responsabilità - RAM)
Stima delle risorse delle attività (Matrice dei carichi di lavoro)
Stima dei costi (Matrice dei costi diretti di progetto)
Sequenzializzazione delle attività (Reticolo di progetto - Pert)
Stima della durata delle attività (Reticolo tempificato - Duration)
Sviluppo della schedulazione (Gantt - Elapsed Time, Milestone, Deadline)
Allocazione dei costi (Budget di progetto - PMB)
Gruppo dei processi di monitoraggio e controllo del progetto
La metodologia "EVM - Earned Value Management" per il controllo incrociato dei tempi/costi di progetto (criteri di consuntivazione attività, Indicatori di performance, proiezioni a finire)
Guida all'uso delle pratiche EVM secondo gli standard internazionali
Piano di gestione dei costi e Piano di gestione della schedulazione


MODULO 4 - Project Risk Management

Elementi base di Risk Management applicato al progetto
La logica complessiva dei processi di PRM
Il Risk Management Plan: caratteristiche e criteri di costruzione
Le diverse tipologie di tecniche di identificazione dei rischi di progetto (Crawford Slip, Affinity Diagramming, SWOT Analysis, Risk check-list; Assumptions analysis, RBS…)
La costruzione e la costante alimentazione del Risk Register
L'Analisi Qualitativa dei rischi, la costruzione della Matrice Probabilità/Impatto
La focalizzazione e la descrizione dei rischi prioritari
Principi di Analisi Quantitativa dei rischi (concetti, passi, tool a supporto)
Le diverse Strategie di Risposta ai rischi (rischio come minaccia e rischio come opportunità)
Il processo di Controllo dei rischi di progetto
Questioni aperte e tendenze in materia di PRM


MODULO 5 - Project Procurement Management

Project Procurement Management: introduzione all'area di conoscenza del PMBOK® e legami con le altre aree di conoscenza
Il Procurement Management Plan, l'analisi Make-or-Buy, il CSOW
Gli Evalutation Criteria per la pianificazione dei contratti
I diversi tipi di offerta richieste ai fornitori (sellers): RFQ, IFB, RFP
Le Bidder Conference e la struttura del Weighting System
I diversi tipi di contratto: Fixed Price, T&M, Cost Reimbursable
Amministrare il contratto di fornitura: il ruolo del Project Manager
Who is the course aimed at

Il corso si rivolge alla seguenti figure professionali:

READ THE DETAILS ▾

Project Manager
Program Manager
Professionisti IT
Project Engineer
Responsabili di implementazione sistemi ERP
Manager funzionali
Risorse in staff coinvolte direttamente o indirettamente nel governo di progetti

 

 

Non sono richiesti prerequisiti per accedere al corso.




Pricing and enrolment

Come sotto riportato, le quote di partecipazione variano a secondo di quando si sottoscrive l'iscrizione. Affrettatevi per non perdere i vantaggi offerti dalla scuola!

READ THE DETAILS ▾

Costi e Iscrizioni

QUOTA DI PARTECIPAZIONE
2950 Euro + IVA

È prevista un'agevolazione per early registration del 5% sulla quota di partecipazione per iscrizioni pervenute 30gg prima dell'inizio del corso
La formula early registration non è cumulabile con altre convenzioni.

NOTA BENE:

Le quote comprendono il materiale didattico e il PMBOK ®
È compresa la quota di iscrizione annuale ad AD-net, Advance Business Network
Non comprendono l'iscrizione agli esami.


Il corso prevede un numero limitato, al fine di consentire una interazione ottimale tra partecipanti ed istruttori.
Per l'iscrizione occorre  inviare via fax (051 0822618) la scheda di iscrizione compilata insieme alla ricevuta dell'avvenuto bonifico o un ordine d'acquisto.