News
New ASCM online courses to improve your Supply Chain Knowledge
20/05/2023
NEW ASCM E-LEARNING COURSES TO IMPROVE YOUR KNOWLEDGE IN SUPPLY CHAIN AND PROCUREMENT
Advance School is proud to announce the launch of new high-value courses in E-learning mode.
These are four comprehensive programs designed to enhance your knowledge and skills in Supply Chain Management and Procurement.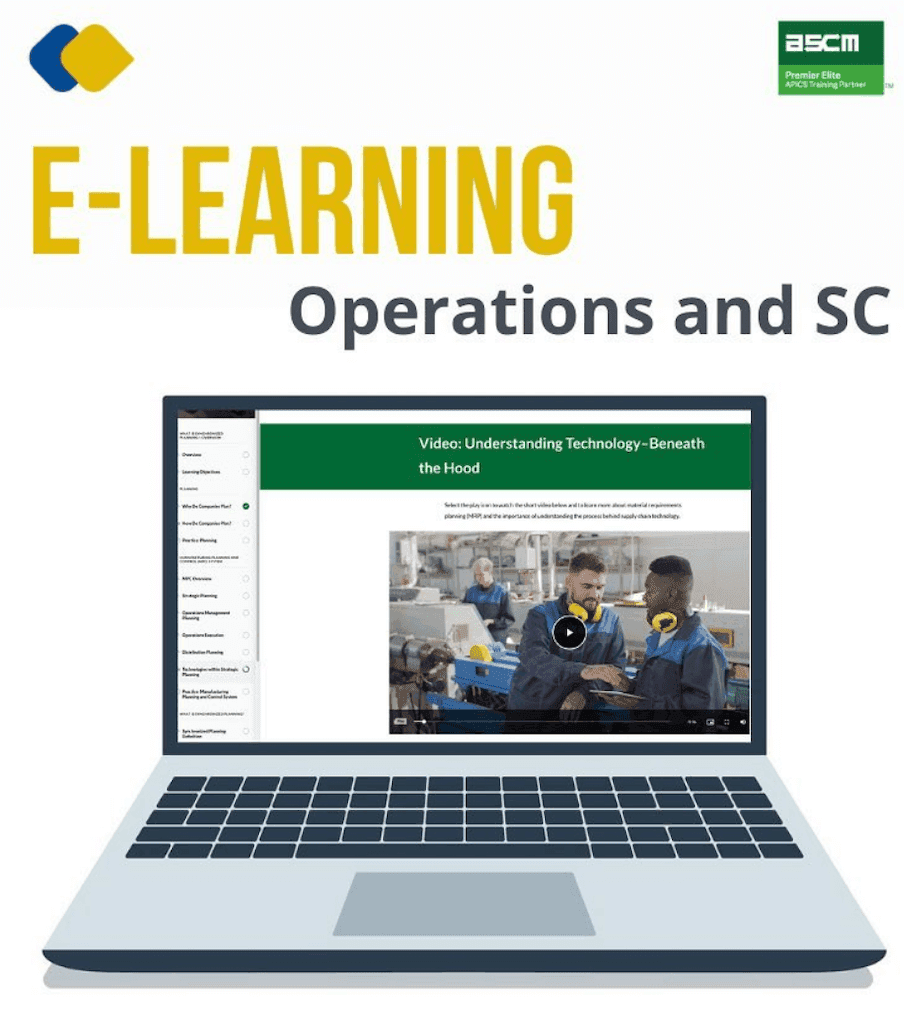 1. Supply Chain Planning Certificate
The first program, Planning Certificate, offers a 20-hour self-paced course that focuses on the fundamentals of planning and the integration of all planning functions within a company. After passing the final exam, participants will receive an ASCM certificate and a digital badge.
This course is aimed at those working in planning, production, and logistics, as well as those who wish to improve their knowledge of Supply Chain Management and production planning and control.
2. Supply Chain Procurement Certificate
The second program, Procurement Certificate, provides an overview of the fundamentals of Procurement, Sourcing strategies and effective management of supplier relationships. You will also learn to engage in sustainable and ethical sourcing and to assess the capabilities of suppliers to select them optimally. This 20-hour course includes a final exam and an interactive online platform.
It is aimed at those working in Procurement who wish to learn new skills or improve existing ones. It is also aimed at managers of other functions who want to know the most advanced skills in the field of Purchasing and Procurement.
3. Supply Chain Technology Certificate
The third program, Technology Certificate, explores the latest Supply Chain technologies (blockchain, advanced analytics, etc.) through case studies of globally recognized organizations. You'll learn how to optimize and improve operational performance, minimize IT security threats and make informed, reliable decisions. This 20-hour self-paced course includes a comprehensive final exam.
This course is aimed at Supply Chain managers and professionals who want to learn about new technologies. It is also suitable for leaders of other business functions, as well as plant managers, operations directors, and general managers. IT managers, project managers, ERP consultants, and supply chain and procurement consultants can also benefit greatly from this course.
4. Foundations of Supply Chain Management
Finally, Foundations is a set of six courses introduced by APICS that includes inventory management, distribution and logistics, operations planning, manufacturing management, managing operations and Supply Chain principles. Each course comprises several modules of three hours each, and upon completion of each, candidates receive a certificate of completion from ASCM.
This course is aimed at newly hired staff or who have been working for a few years in the functions of Planning, Logistics, Production, Purchasing, Customer Service and Warehouse Management who must quickly integrate into the company.
It is important to note that the Foundations of Supply Chain Management program offers a certificate of completion, while the Planning, Procurement, and Technology programs offer APICS Certificates.

We invite you to visit the new E-Learning section on the homepage of our website and explore these new state-of-the-art courses. With self-paced formats, interactive online platforms, and on-demand access to Office Hour sessions with a certified instructor who will provide insights, explanations, and case study discussions, they're perfect for professionals looking to improve their skills and advance their careers.
See all »